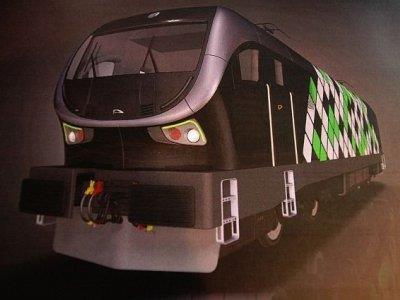 POLAND: Rolling stock supplier Pesa Bydgoszcz has won a contract to build a self-propelled infrastructure inspection vehicle for use by Russian Railways. The deal was signed at the Trako trade fair in Gdansk on October 12 by Pesa's President & Director General Tomas Zaboklicki and RZD Vice-President Valentin Gapanovich.
Zabolicki told Railway Gazette International that the contract award followed three years of negotiations, during which Pesa had been bidding against many other suppliers, including some of the 'biggest in Europe'. He believed it was the first time for more than a decade that a Polish builder has won a contract to supply rolling stock for the Russian market.
Due to be delivered in around 18 months, the four-axle vehicle will have two diesel engines driving both bogies. It is being designed to operate in the Russian climate, at ambient temperatures ranging from -50 to +50°C. Pesa will also source and install all of the inspection and measuring systems itself, according to Zabolicki.
The vehicle is expected to draw heavily on Pesa's new Link family of modular DMUs, for which the company has recently won an order to supply 31 two-car sets to CD – its first rolling stock for the Czech Republic. Company insiders revealed that Pesa was negotiating to supply Link DMUs for an un-named German operator, with a deal expected to be signed shortly.
Zaboklicki also announced at Trako that Pesa is to develop its own design of modular electric locomotives, designated Type 111E. This will be a 5 600 kW Bo-Bo weighing 80 tonnes for 3 kV DC operation at speeds up to 190 km/h. The company is planning to build a prototype for display at InnoTrans 2012 in Berlin, although insiders say this will not be a demonstrator as Pesa is confident of concluding a deal with a launch customer before the start of construction.