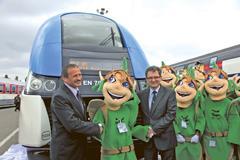 INNOTRANS: Polish rolling stock manufacturer Pesa celebrated the launch of its ELF electric multiple-unit for commuter and regional services on September 21.
The unit on display in Berlin is one of eight ordered by the Polish voivodship of Slaskie. Its four articulated cars give a total length of 75.25 m with 200 seats and space for a total of 450 passengers, but the design is available in configurations of between two and eight cars. The unit on show is equipped for 3 kV DC power supply and has a top speed of 160 km/h, although this could subsequently be increased to 190 km/h.
The train is designed for 550 mm high platforms, and steps can be added for use where platforms are lower.