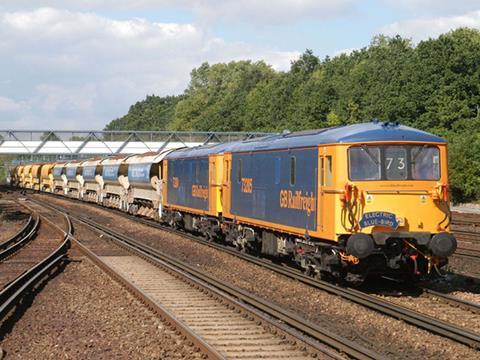 UK: Railway Vehicle Engineering Ltd is to rebuild a Class 73 electro-diesel locomotive with modern traction equipment. The prototype is currently at the design stage and RVEL hopes to complete the project during 2012.
Envisaged as a prototype for a possible fleet of 12 to 14 locomotives, the project has attracted interest from infrastructure manager Network Rail as well as freight and passenger operators using the 750 V DC third rail electrified network south of London.
RVEL told Railway Gazette International that the rebuild would have a 'go anywhere' capability, with potential duties including rescuing failed trains, hauling stock to and from workshops and helping out during severe cold weather.
The Class 73's 750 V DC traction control equipment would be stripped out and replaced by a DC chopper and the locomotive's 600 hp English Electric engine exchanged for a pair of Cummins QSK19 engines, each developing 750 hp and meeting Stage IIIA emissions regulations. The present control equipment would be replaced by an NForce control system and driver interface from US supplier National Railway Equipment Co, for whom RVEL is a UK distributor.