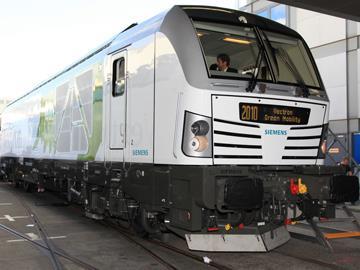 INNOTRANS: Siemens Mobility marked the launch of its new Vectron interoperable locomotive family with a short ceremony on September 22 to name the first multi-system electric loco after the company's founder Werner von Siemens.
Chief Executive of the Siemens Industry Sector Siegfried Russwurm noted that it was highly appropriate that the event should take place at InnoTrans, as it was at a trade fair in Berlin in 1879 that von Siemens first demonstrated the practicality of electric traction on rail.
Derived from experience with the Eurosprinter and Eurorunner designs, the Vectron family has been developed for cross-border freight and passenger services, at speeds of 160 or 200 km/h. Four prototypes are on show at InnoTrans 2010: the multi-system version named in the ceremony, plus AC and DC electric versions and a diesel variant.
Hailed by Siemens Mobility CEO Hans-Jörg Grundmann as 'a surprise for our competitors', the Vectron DE had been kept as a closely-guarded secret. Sharing a high proportion of components with the electric locos, it is powered by an MTU 16V 4000 R84 engine, rated at 2 400 kW. This engine meets Euro Stage IIIB emissions regulations, and delivers a starting tractive effort of 275 kN.
The standard Vectron loco is 19.9 m long and 3 m wide, and meets the UIC 505-1 loading gauge. With a Bo-Bo configuration, it can be supplied for track gauges between 1 435 and 1 676 mm. The flexible design and interoperable capability are expected to prove popular with customers large and small, including leasing companies looking to order versatile traction at short notice.
Grundmann said that there had been considerable interest from potential customers, and the company was in negotiations with several possible clients, but as yet no firm contracts have been signed.