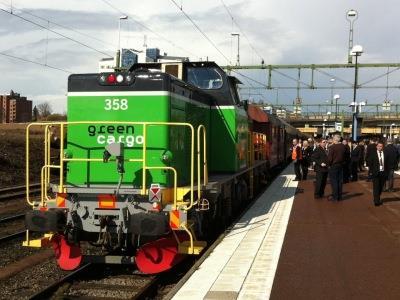 SWEDEN: More than 400 delegates attending the UIC's 10th ERTMS World Congress in Stockholm were given the opportunity to sample the first application of ETCS Level 3 train control on April 24, when Trafikverket and Bombardier hosted a technical visit to the Västerdalsbanan pilot project for ERTMS Regional.
The 143 km single-track line linking Repbäcken near Börlange with Malun has been equipped under a framework contract awarded in 2005 which covered both the development and installation of ERTMS Regional. The first equipment was installed in 2008, and test trains began running in 2010. Following extensive testing and a three-day closure for final commissioning, the equipment was put into full commercial operation on February 21.
The former manual dispatching arrangements have been replaced by a computer-based 'traffic control centre' in Börlange, which combines the interlocking and RBC functions. This is controlled remotely from the regional dispatching centre at Gävle. Seven object controllers have been provided to operate turnouts at the stations along the route, connected to the TCC using various links and TCP/IP protocols.
Under Level 3, the trains report their position to the TCC every 6 sec, using on-board odometry which is reset by balises at intervals, and receive movement authorities in return. At present train integrity is supervised by the drivers, but an end-of-train detector is under development.
Although ERTMS Regional is designed for moving block, Trafikverket has specified a 'virtual fixed block' application to simplify the changes to its operating rules. Pairs of balises and marker boards are provided at each station, with intermediate balises every 5 km along the line, allowing trains to follow each other through a single line section. Trials with moving block are to be undertaken in the next few months.
With the pilot line now in full operation, Trafikverket is planning to roll out ERTMS Regional to further secondary routes. Contracts are being negotiated within the framework agreement, covering the 67 km line from Bastuträsk to Skellefteå in the north of the country and the Dannemora – Hargshamm line near Gävle. According to the infrastructure manager's Head of ERTMS Sven-Håkan Nilsson, both routes should be operational by the end of 2013 or early 2014.