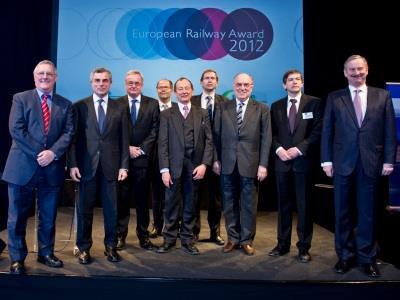 EUROPE: 'We must create a European railway area, where railway operators are able to provide their services across borders', insisted European Commission Vice-President for Transport Siim Kallas, speaking at the 2012 European Railway Awards in Brussels on February 8.
Kallas is concerned that 'today, many of Europe's railways are not achieving their full growth potential, especially for freight and passenger traffic over medium to long distances.' He wants to see the railways 'doing a lot more for Europe – they need to be faster, more punctual and more efficient. This should be a real European railway to join up east and west, north and south – and not the collection of national railways we have today, struggling with technical differences in track gauges, electrification and signalling.
Later this year, he confirmed, the Commission would present further legislative proposals, which 'will provide more stimulus for creating the single rail area and for some much-needed changes to the EU rail sector.' He argued that 'for such a fragmented transport mode to thrive, rail needs to become a real single market as we continue the process of building a unified European transport area by 2050.' However, he wanted to stress that 'nothing has yet been decided', adding that the Commission would 'listen to the views of all interested parties as we carry out impact assessments on possible options'.
More than 500 guests from across Europe attended the fifth annual awards ceremony organised by CER and UNIFE. This year's Technical Award went to François Lacôte, who, as Director of Rolling Stock at SNCF and subsequently Technical Director at Alstom Transport, led the development of the TGV family, notably the high-capacity TGV Duplex sets and the V150 research programme which set the world rail speed record in April 2007.
In his acceptance speech, Lacôte called for greater recognition of railways as 'a system', with a simpler regulatory structure, and encouraged closer collaboration to ensure that Europe remained 'the world leader in rail innovation'. He wants to see the creation of a pan-industry research centre comparable with the Transportation Technology Center in the USA, highlighting the work of railway research institutions in Japan, South Korea and China.
The 2012 Political Award went to European ERTMS Co-ordinator Karel Vinck, who has been working 'tirelessly' since 2005 'on making the European rail network interoperable'. Brian Simpson, Chairman of the European Parliament's Transport & Tourism Committee, said the task 'has required diplomacy, determination and last but not least patience', but he felt that Vinck had played a crucial role in 'laying the foundations' for interoperable train control systems, which would facilitate the emergence of 'an integrated European railway.'