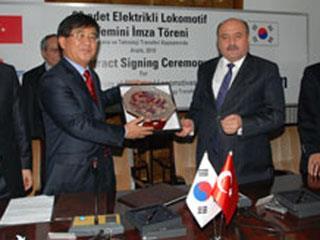 TURKEY: Hyundai Rotem signed a contract to supply state railway TCDD with 80 electric locomotives and a driving simulator on December 20. The South Korean firm said this is its first export order for electric locomotives, although it has exported diesels and multiple-units.
Eight of the 5 MW locomotives will be manufactured by Hyundai Rotem, with the rest to be assembled locally in co-operation with Tülomsas for delivery by the end of 2014. Technology transfer agreements will see local content reach 35%.
The order is worth a total of US$330m, with Islamic Development Bank providing US$220m. Other bids were submitted by Bombardier Transportation, AnsaldoBreda and Chinese suppliers.
Hyundai Rotem was the lowest bidder, and has a strong footprint in Turkey through its Eurotem local business. The South Korean firm said it has now won orders to supply around 800 heavy and light rail vehicles for seven projects in Turkey, and is hoping to win an order to supply high speed trains.
On December 16 Hyundai Rotem signed a US$304m contract to supply Ukrainian state railway UZ with 10 nine-car 160 km/h inter-city EMUs.