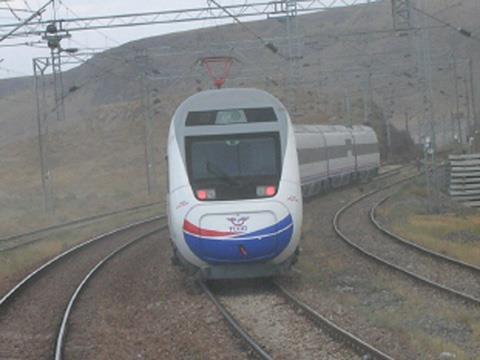 TURKEY: The first passenger train on TCDD's new Ankara - Konya high speed line ran on December 17, marking another significant step in the country's rail development. International Affairs Director Ibrahim Ceslik says revenue services are expected to begin in early 2011, following the formal completion of the line at the end of 2010.
Ankara - Konya is the country's second line built for 250 km/h operation, following the opening of the Ankara - Eskisehir route in March 2009. Ceslik reports that construction of the new line between Eskisehir and Istanbul is around 50% complete. To the east of the capital, work on the first section of the direct line to Sivas is 30% complete; major structures such as tunnels and viaducts are taking shape, but installation of the railway superstructure has yet to begin.
At present TCDD only has 10 CAF-built 250 km/h trainsets acquired to operate the Ankara - Eskisehir route. More trains will be needed as the high speed network expands, and Ceslink said the operator was drawing up plans to order up to 48 additional trainsets.
The Turkish government has formally adopted a national railway development programme which will add 14503 km of new line in time for the centenary of the republic in 2023, at an estimated cost of US$45bn. A further 2434 km will follow by 2035, expanding the network from 11008 to 27947 route-km in 25 years. Of this, there will be 11998 km designed for operation at 250 km/h and above. The intention is that this will raise rail's market share to 15% in the passenger sector and 20% for freight.
Meanwhile, plans are taking shape for 30 new stations to serve the cities on the emerging high speed network, as part of an urban renewal programme. First will be the new station in Ankara, which is to be developed through a PPP concession. Tender documents are now being prepared, and TCDD expects to invite tenders in early 2011.