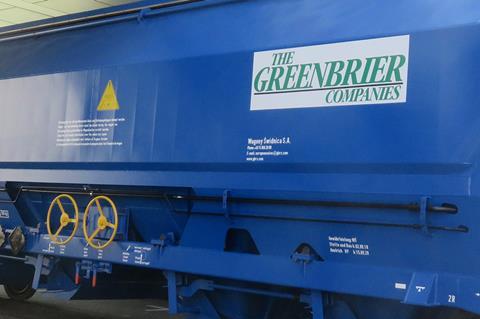 GREENBRIER: Wagon manufacturer The Greenbrier Companies has two primary goals during the coronavirus pandemic, Chairman & CEO William A Furman said when presenting its Q2 results on April 7. These are 'protecting the safety and health of employees and preserving the economic well-being of our enterprise in this challenging environment'.
The group's US manufacturing and service sites continue to operate as essential business under directives issued by the Department of Homeland Security and other authorities.
It has downsized its manufacturing footprint for lower levels of demand, with a global reduction of 3 500 employees; manufacturing workforce reductions were primarily in Mexico. There will also be a two-week shutdown of its European facilities over Easter to allow the supply chain to normalise.
The company has suspended its financial guidance for the year. It is eliminating all non-essential capital expenditures, and 'aggressively' reducing costs including stopping all non-essential travel and implementing a hiring freeze 'while evaluating its total operating unit footprints'. Board members have voluntarily reduced their annual compensation.
Greenbrier received orders for 8 500 wagons worth US$815m in Q2 to February 29 2020, with more than 50% from non-US sources. The backlog increased to 30 800 units with an estimated value of US$3·2bn.