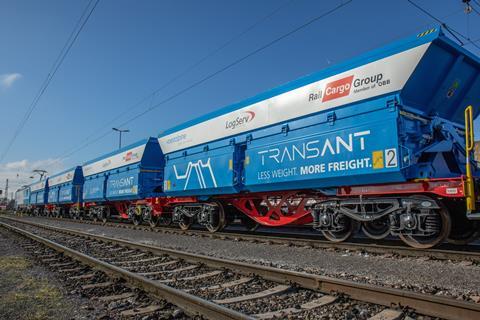 AUSTRIA: Ukrainian company TAS Group has acquired a 40·03% stake in lightweight modular wagon development joint venture TransANT as part of its strategy of expansion into the international market.
This reduces steelmaker Voestalpine's stake in the Linz-based joint venture from 80·2% to 48·1% and ÖBB Rail Cargo Group's stake from 19·8% to 11·87%.
TransANT's modular wagon concept combines a common lightweight underframe and running gear with customised body elements that can be optimised for various logistics applications. A pre-production build of 60 wagons has been transporting iron ore for Voestalpine since 2019.
The joint venture said the new investor would bring extensive wagon know-how and modern production facilities.
TAS Group has made major investments in its Dniprovagonmash plant to enable it to produce wagons to international standards, and recently began production of the main components for modular wagons.
'We have entered into a new, quite powerful, model of international co-operation in the field of wagon building which gives us new prospects for growth', said TAS Group shareholder Serhii Tihipko when the investment in TransANT was announced in February.
'Setting ourselves ambitious goals to integrate into the European markets, TAS Group sees the highest priority in consolidating the economic potential of its enterprises in Ukraine.
'Implementation of the Ukrainian-Austrian project is an extremely important driver which will give a domestic manufacturer a mighty synergism for further development, improving the efficiency of production, and boosting export opportunities.'