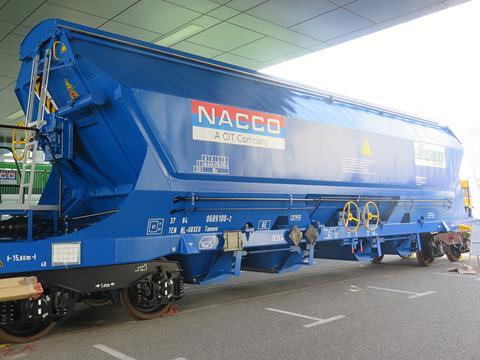 EUROPE: Hamburg-based wagon leasing group VTG increased its total fleet to more than 94 000 vehicles on October 5, with its acquisition of CIT Rail Holdings (Europe) SAS and the associated Nacco Group.
The takeover announced on July 1 2017 had been approved by the relevant competition regulators in March, subject to a requirement by the German and Austrian authorities that a proportion of the Nacco fleet should be sold to a third party. The transfer of around 4 000 tank wagons to a consortium of Wascosa AG and Aves One was concluded on October 1.
According to VTG, the group has acquired 'a well-balanced portfolio of about 11 000 freight cars', serving key markets in the UK, Scandinavia, the Netherlands, Belgium, Austria, France, Italy and eastern Europe. VTG expects the acquisition to generate around €85m of additional revenue in 2019, translating to €70m in increased EBITDA before transaction and integration costs. The acquired fleet will also be equipped with VTG Connector telematics systems as part of the group's ongoing digitisation programme.
'The Nacco takeover will strengthen our market position in Europe for a long time to come', said VTG Executive Board Chairman Dr Heiko Fischer.
'This marks another step forward on our strategic plan to simplify and strengthen the company', said CIT Group Chairwoman & CEO Ellen Alemany. 'We have exited our last ongoing overseas operation, which allowed us to focus on our core strengths in North America', where the company has 'a young and diverse fleet'. A portion of the sale proceeds will be used to optimise CIT's funding profile, including debt repayment, and to return capital to shareholders.
VTG is financing the transaction with a senior loan of €375m and an existing senior loan worth approximately €80m, along with a privately-placed hybrid bond of up to €300m which is to be refinanced on the capital market in conjunction with a planned rights issue.