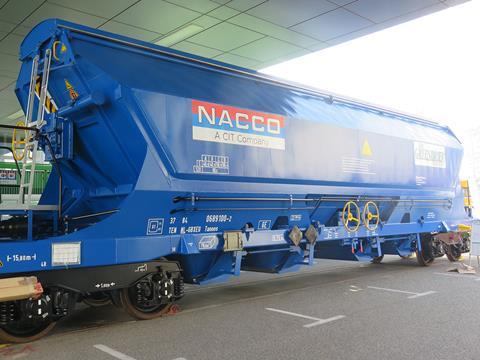 EUROPE: CIT Group Inc of the USA has reached a definitive agreement to sell its European wagon leasing business to Hamburg-based VTG AG.
CIT Rail Holdings (Europe) SAS owns Paris-based NACCO, which according to VTG is the fourth largest private wagon leasing company in Europe with a 'well-balanced portfolio' of 14 000 vehicles across France, Germany, Austria and Eastern Europe.
The agreement announced on June 30 is worth €780m, plus adjustments of up to €140m to take into account investments made between January 1 and the closing of the transaction, which is expected to be in the fourth quarter of 2017. VTG will finance the acquisition via a senior loan of up to €500m, a €300m privately placed hybrid bond and the assumption of existing net debt of approximately €120m. It is envisaged that the hybrid bond would be refinanced via the capital market, potentially via a rights issue.
VTG expects a sales contribution of €120m from the acquisition in 2018, and an EBITDA contribution of €100m before transaction and integration costs. CEO Heiko Fischer said the deal would 'strengthen our market position in Europe sustainably', taking VTG's fleet to 94 000 wagons. The NACCO fleet is to be fitted with VTG-Connector telematics equipment, he added.
NACCO is CIT's last ongoing business outside North America. CIT's US, Canadian and Mexican activities are not affected, and the US group said it 'remains committed' to these businesses.
'CIT has been divesting its international operations and centring on its core commercial banking franchises, which are largely domestic', said CIT Chairwoman & CEO Ellen R Alemany. 'We are pleased to have reached an agreement with a strategic European company that understands the strengths in the NACCO franchise as a market leader in the pan-European rail industry.'