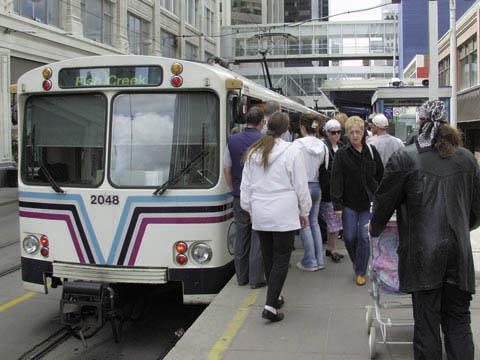 CANADA: Mayor of Calgary Dave Bronconnier has announced a two-year investment programme to develop the city's public transport network. He was joined by federal Environment Minister Jim Prentice and Alberta's Minister Justice Alison, as the three levels of government will each be providing one-third of the C$270m funding package.
According to the Mayor, the package provides 'an immediate stimulus for job creation, and investing to improve mobility which has lasting benefits for our economic competitiveness for the future.' Noting that the deal was 'an important partnership' between the three levels of government, he emphasised that 'expanding our transit network and upgrading our system is vital for the environment and our quality of life.'
Amongst the projects covered by the initiative are the introduction of an electronic fare collection system, additional traffic signal prority for light rail and bus services, and an upgrading of the C-Train light rail power supply network. The LRT's CCTV security network and passenger information systems will be enhanced, and new park-and-ride facilities will be developed on the Southeast Line BRT route.
The deal also provides funding for rehabilitation of the track and stations in the 7th Avenue mall, as part of an ongoing upgrade to permit four-car operation. This will see track renewals and platform lengthening at various locations. There will also be a new station at 11th Street on the West Light Rail line. Work is to start on most of these projects before the end of this year, apart from 11th Street station, where construction is to begin in 2010 for completion by the end of 2012.