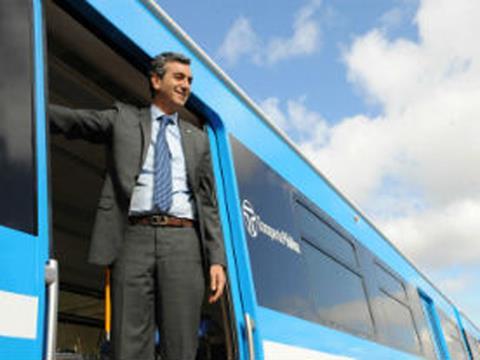 ARGENTINA: The Ministry of the Interior & Transport has selected Supercemento SAIC as preferred bidder for the first two contracts to be awarded under the project to upgrade and electrify at 25 kV 50 Hz AC the 52⋅6 km between Plaza Constitución and La Plata on the Roca commuter network in Buenos Aires.
Supercemento has been awarded Lot 1 for 129⋅2m pesos and Lot 2 for 158⋅9m pesos. Both awards have been approved by the Inter-American Development Bank which is funding the project.
'When this work is finished, along with the introduction of 300 new cars which are being built in China, we will cut the journey time between Plaza Constitución and La Plata by 20 min, double frequencies and move from a train every 25 min to one every 12 min', said Minister of the Interior & Transport Florencio Randazzo on July 14. Deliveries of the new Roca fleet from CSR are expected to begin towards the end of this year.
As well as electrification and the construction of a new traction substation, infrastructure works to be undertaken on the La Plata route include station refurbishment, raising platform heights and the provision of new structures including a viaduct at Ringuelet and two road underbridges in La Plata.