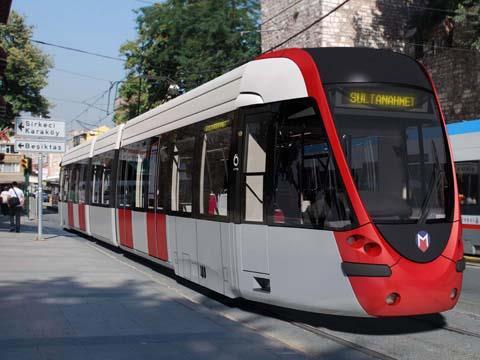 TURKEY: On September 1 Alstom delivered the first of 37 Citadis trams ordered by Istanbul Metropolitan Municipality.
The vehicle left Alstom's engineering and production centre in Valenciennes, France, on August 25 and travelled by road to Trieste in Italy, from where it was shipped to Turkey on August 29.
The tram will now undergo several weeks of tests on the network run by Ulasim, Istanbul's urban transport operator. The remaining trams will be delivered between the end of 2009 and mid -2010. Alstom Transport will also supply a driving simulator to help train the drivers.
This tram is the first to be equipped with Alstom's Ixège bogie, which combines a swivel function and a low floor, enabling it to be used on any type of track, whether new or in use for a number of years.
Working as coupled pairs, the new trams can accommodate up to 500 passengers and have a maximum speed of 70 km/h. The Citadis fleet will operate alongside the Bombardier Flexity Swift low-floor trams currently in service between Zeytinburnu and Kabatas, and will replace the high-floor vehicles in use on the Zeytinburnu - Bagcilar section. The tramway serves the historic Golden Horn district and currently carries 250 000 passengers per day.
Alstom is also involved in other rail projects in Istanbul. The 15·9 km metro line under construction between Otegar Kirazli and Olimpyat Village will be operated by 20 Metropolis trainsets which are currently being built. Together with its partners Marubeni and Dogus, Alstom is working on Contract CR1 of the Marmaray rail link under the Bosphorus. Known as AMD Rail Consortium, they are responsible for supplying the infrastructure and track works on the surface alignments, all railway systems, electrification and signalling.