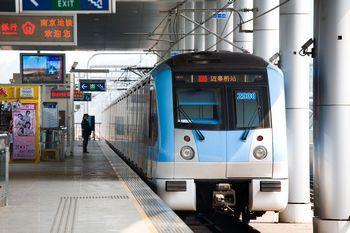 ASIA: Recognising that the main area of growth in the urban rail sector for the next few years is likely to be the Far East, Veolia Transport and RATP Développement announced on January 21 that they were forming a joint venture company to bid for metro and public transport operating concessions in Asia. The partners have identified China, South Korea and India as target markets, and hope to build a business worth €500m by 2013.
The agreement will run for an initial term of 20 years, with Veolia providing the company President for the first three years and RATP Développement the Chief Executive.
Veolia has already achieved some success in Asia, and is currently operating the Nanjing metro. In 2007 it was awarded a concession to run Seoul metro Line 9 when this opens in July. More recently it has signed a five-year contract with the Mumbai Metro One consortium which has a 35-year concession to build and operate the first line in that city. Veolia will be in charge of operations, and will undertake maintenance though a 70:30 joint venture with Reliance Infrastructure. Veolia expects to recruit around 550 employees for the commissioning, which is scheduled to begin in 2010. All three contracts, with a combined value of around €100m, will be transferred to the new venture.
RATP Développement provides engineering, operational and maintenance expertise, harnessing the experience of its parent in Paris. To date, most of its successes as a contract operator have been in Europe and North Africa. According to Veolia Transport Director-General Henri Proglio, 'putting our synergies and expertise together will reinforce and accentuate our visibility in this rapidly-growing market for public transport'. He estimates that China accounts for more than half of all new metro route-km being built between now and 2015. The country's urban population is growing by 3% a year and there are already 170 cities with more than 1 million inhabitants.
The two partners believe that working together will give them more weight in an increasingly competitive market. In Asia, they will certainly be up against Hong Kong's MTR, which has BOT concessions including Beijing and Shenzen and provides technical assistance for many other operators across the region.
Proving that competition works both ways, MTR is increasingly active in Europe, holding a 50% stake in the London Overground operations contract alongside DB Regio. On January 19 MTR scored another notable coup by winning the Stockholm metro operating contract currently held by Veolia. Starting on November 2, the new contract will initially run for eight years, with an option to extend for a further six. Under the fixed-price deal worth SKr2465m a year, SL will also transfer its separate rolling stock maintenance contract to MTR.