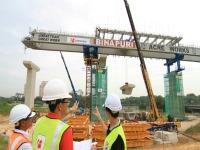 MALAYSIA: Shahril Mokhtar, Managing Director of government infrastructure body Prasarana, officially launched the 7bn ringgit LRT Extension Project on March 5.
A 17 km elevated extension of the Kelana Jaya light metro with 12 stations will run from Kelana Jaya to Putra Heights, where there will be interchange with the Ampang metro line, which is to be extended 17∙7 km from Sri Petaling, adding 11 stations with provision for two more. Opening of both extensions is planned for 2014.
'Without any shred of doubt, the effect of the LEP will be life-changing', said Shahril. 'Not only will it enhance mobility for people in the Klang Valley, but also their economic well-being. With enhanced mobility, there will be increased productivity and earnings for the people'. He said the project would also be 'a catalyst for economic development' along the routes, triggering business opportunities and new jobs.