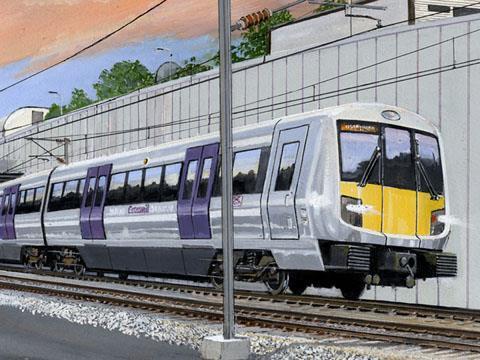 UK: Procurement of rolling stock for the Crossrail east-west link through London was officially launched with the publication of an OJEU notice on December 1 seeking expressions of interest in a privately-funded train provision contract.
With a capital cost estimated at around £1bn, the package would include the supply and maintenance of around 60 trainsets including the associated depot facilities. Each train would initially be formed of 10 cars, although the underground stations are being built with provision for later extension to 12-car formations.
The 10-car trains would be around 200 m long with capacity to carry up to 1 500 passengers. The line is being designed to accommodate up to 24 trains/h in each direction through the central core between Paddington and Whitechapel
According to Crossrail Ltd CEO Rob Holden, 'with construction gathering pace it is now time to focus on the trains. The rolling stock will need to be high capacity and accommodate the needs of passengers travelling from further afield as well as those joining and alighting in the central area.'
To ensure value for money, Crossrail anticipates that the new trains will be 'based on technology already developed by the worldwide rolling stock market for deployment on other railways', noting that 'a revolutionary new design is not required'.
There have been suggestions that the most effective option might be for Crossrail to piggyback on the planned order for up to 1 200 vehicles to operate a similar mix of inner and outer-urban services on the north – south Thameslink corridor; a preferred bidder for this contract is now expected to be announced in the spring of 2011.
Crossrail envisages that 'the rolling stock and depot facilities will be funded by private finance' adding that 'arrangement of finance will be required as part of supplier bids. The costs associated with the rolling stock and depot contract are planned to form part of the future cost of operation'. The current intention is that a concession to operate Crossrail services will be let by TfL London Rail, similar to that already awarded for the London Overground routes.
Read more about Crossrail station developments in the December issue of Railway Gazette International