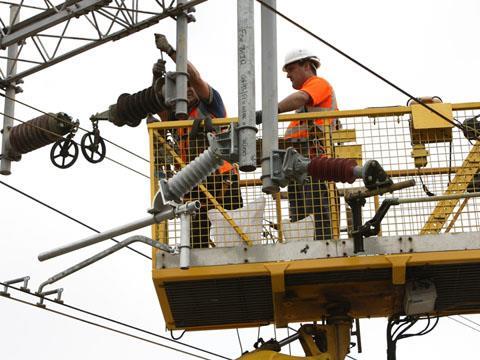 UK: The go-ahead for two previously-announced commuter electrification projects was confirmed by Secretary of State for Transport Philip Hammond in a statement on November 25, along with full completion of the Thameslink Programme.
However an decision about electrification from London to Bristol and south Wales has been deferred until the New Year, along with rolling stock orders under the Intercity Express Programme and for Thameslink.
Electrification
Over the next six years the routes from London Paddington to Didcot, Oxford and Newbury are to be electrified for commuter services, along with lines between Liverpool, Manchester, Preston and Blackpool, at a total cost of £900m.
Additional work will be undertaken with the Welsh Assembly Government on the business case for electrification of the Great Western Main Line to south Wales, with an announcement due 'in the New Year.'
Hammond said the government supports further electrification, and 'will continue to consider the case' for schemes including the Midland Main Line.
Intercity Express Programme
In February 2009 the Agility Trains consortium of Hitachi and John Laing was named preferred bidder to supply 'up to 1 400' vehicles to replace the 200 km/h diesel High Speed Trains dating from the 1970s. The procurement has been protracted, with uncertainty over what the Department for Transport requires.
A review of options which would be cheaper than the original proposal was commissioned by the previous government, and published in July. On the basis of this report, Hammond has ruled out requiring passengers to change to diesel services at the end of the wires. He has also ruled out wholesale refurbishment of the HST fleet, most of which will be retired.
Two options are now under consideration: a 'revised lower cost' Agility Trains proposal based on a mix of all-electric trains and bi-mode trains which also have underfloor diesel engines, or a new proposal for fleet of electric-only trains with new diesel locomotives to haul them on non-electrified routes.
The preferred option will be chosen in conjunction with the Great Western electrification decision in 2011. 'This is a major decision which will affect inter-city travel for decades, and we must get it right', said Hammond.
Hitachi said it was 'disappointed' that there is still no decision. It will continue talks with the Department for Transport 'and will consider our position in the light of these'.
'This project, started five years ago under the previous Government, has already cost more than £20m in consultancy fees and is yet to produce a single carriage', said Michael Roberts, Chief Executive of the Association of Train Operating Companies.
Thameslink
The Thameslink Programme to upgrade the north-south commuter route through central London will be funded and delivered 'in its entirety', Hammond confirmed, however completion is being put back to 2018 because the complexity of rebuilding of London Bridge station.
Bombardier and Siemens are shortlisted to supply 'up to 1 200' EMU cars for Thameslink, and the preferred bidder is now to be announced in 'spring 2011'.
The current EMUs will be redeployed on the routes to be electrified west of London and in the northwest, freeing DMUs for redeployment 'after 2015'.
Rolling stock
'Around 600' new EMU cars will also be ordered for London's Crossrail project. As well as the Thameslink and Crossrail trains, Hammond said 'an additional 650' cars will be delivered between May 2010 and March 2014, giving a net increase of at least 1 850 cars on the network by 2019.
Subject to commercial negotiations with the franchised operators, the government expects this additional stock to be used on services into Leeds, Manchester, Sheffield, Liverpool, Newcastle, Birmingham, Bristol, London Paddington and London Waterloo.
ATOC said the 'detailed involvement of civil servants' in ordering trains was 'an unwelcome legacy of the previous government which has brought unnecessary delay and bureaucracy', and 'leaving the job to train companies would get things done quicker and cheaper'.