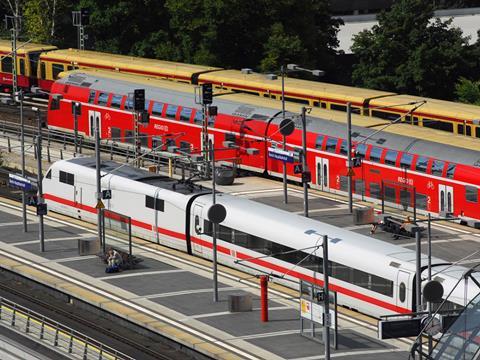 GERMANY: 'We can feel the wind in our sails, but we still have our feet firmly planted on the ground', said Deutsche Bahn Chief Executive Dr Richard Lutz when presenting the group's results for the first six months of 2017 on July 26.
Lutz said the figures from the first half of the year 'show that we are on the right track', and that the Zukunft Bahn multi-year improvement programme, 'is raising quality, and our customers are rewarding us for that'. Total revenue rose by 5·2% to nearly €21·1bn in the first six months of 2017, and EBIT rose by 17·1% to €1·18bn. As a result DB has raised its forecasts for the full year and now expects revenue of more than €42·5bn and EBIT of at least €2·2bn, with an increase in ROCE to over 6·0%. The forecast for net capital expenditure has increased from €3·5bn to €4·0bn, but net financial debt is expected to remain below €19bn.
The long-distance passenger business carried a record 68 million people, a year-on-year increase of 2·4%, with passenger-km up 3·3% to 19·5 billion. Long distance services delivered an on-time rate of 81·0%, up 2·6 percentage points, but Lutz said 'we are not yet satisfied with punctuality as a whole' and 'there is more to be done'. He highlighted arson attacks and storms during June as cause of recent disruption.
DB Regio's total regional passenger-km were up 2% to 20.5 billion, with a stable on-time rate of 93·2%.
The Arriva international operating business saw rail and bus ridership grow 17% to nearly 1 billion passengers, while kilometres operated rose by 22·9% for rail and 5% for bus. Revenues rose 5·3%, or to €2·7bn with EBIT up 3·8% to €110m. Lutz said this reflected successful efforts to build a broader base for the business, in particular outside the UK.
Rail freight tonne-km were down 0·2% at 47·8 billion, although 'the first indications of growth in five years were visible in Germany'.
Train path-km on the German national network rose 0·5% to 534·2 million, with non-DB companies increasing their share from 29·8% to 30·8%.
DB's future plans include investing €5·5bn over five years in the modernisation of stations to improve accessibility, the passenger environment, digital services and making lifts and escalators more reliable. A DB Information service will offer 'state-of-the-art information counters' at main stations.