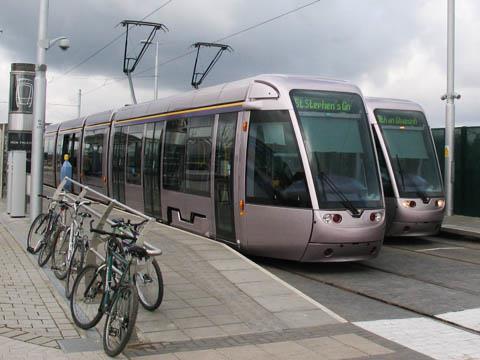 IRELAND: The national planning authority granted a railway order on August 3 giving powers to build a €370m tram line through central Dublin to Broombridge. Opening of the latest addition to the Luas light rail network is planned for 2017.
Designated Line BXD, the 5·6 km route will start at the current Green Line terminus at St Stephen's Green. There will be separate north and southbound single-track routes through the city centre, joining to form a double-track section which will use a former railway alignment to reach Broombridge.
The 13 stops will include an interchange with Iarnród Éireann rail services at Broombridge, where there will be a tram depot and provision for a future extension to Finglas.
The project includes a link enabling trams to be transferred between the currently isolated Red and Green lines.
The new route will serve a recently-approved Dublin Institute of Technology campus at Grangegorman, which is to accommodate more than 20 000 students.
Michael Sheedy, Director of Light Rail at the Railway Procurement Agency, said the Broombridge line is RPA's most important project, which would 'form the foundation of a high-quality integrated network which will significantly reduce the current high reliance on the private car'.
Luas ridership has held up despite the recession, according to RPA, with 29 million passengers carried in 2011. The Broombridge line is expected to generate an additional 8 million journeys a year.