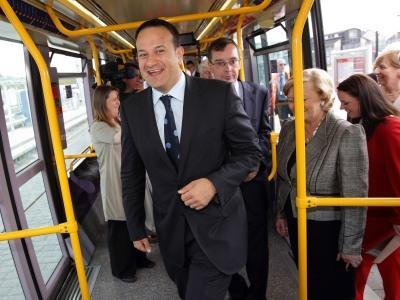 IRELAND: Minister for Transport, Tourism & Sport Leo Varadkar opened the western branch of Dublin's Luas Red Line to Citywest and Saggart on July 2. Following the Red Line eastern link to Docklands and the Green Line southern extension to Sandyford, it is the third city's third light rail extension to open in the past 18 months.
The 4·2 km Citywest branch diverges from the existing Red Line at Belgard and runs to Garter Lane in Saggart. It serves five stops including a 312 space Park & Ride facility at Cheeverstown, and is expected to generate around 2 million passenger journeys per year.
Journey time from Saggart to central Dublin will be around 50 min. Around one tram in three on the Red Line will run to Citywest, giving a 10 min headway on the branch and a 6 min headway on the existing Red Line to Tallaght at peak times.
Designated Line A1, the €150m extension has been developed under a PPP joint venture between Railway Procurement Agency and the Citywest Luas Ltd grouping of landowners and business interests developing new suburbs to the west of the capital, such as Cairnwood, Ambervale, Belgard Green, Fettercairn, Kilmartin, Brookview and Ard Mor. CLL brings together Davy Hickey Properties, Harcourt Development Ltd and HSS (Mansfield Group). Having originated the proposal, CLL provided land for the new line, and undertook construction works on behalf of RPA, before handing it over on completion. CLL's total contribution is put at around 55% of the overall project cost.
Speaking at the launch ceremony in Fettercairn, RPA Chief Executive Frank Allen said 'the high frequency service provided by Luas Citywest will improve the quality of life for the residents of West Tallaght and will improve the competitiveness of business in the area.' Describing Luas as 'Dublin's best public transport success story', Varadkar said the two light rail lines had carried more than 177 million passengers since the first section opened seven years ago. 'Uniquely among rail lines in Ireland, it has operated a surplus and has not needed a subsidy. Luas has been a great success. This new line will make it even better, and I hope it will not be the last.'