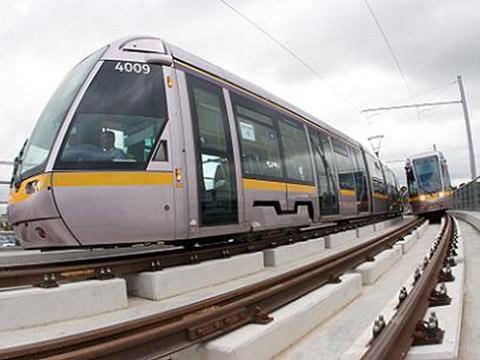 IRELAND: The 7·5 km Cherrywood extension of Dublin's Luas light rail Green Line from Sandymount to Brides Glen was officially inaugurated by Taoiseach Brian Cowen on October 16, in a ceremony at the new Central Park stop.
The event was also attended by the Chair of Dun Laoghaire Rathdown County Council, Lettie McCarthy, representatives of the Railway Procurement Agency and other stakeholders. There was a weekend of free rides before the start of revenue service on October 18.
Designated as Line B1 by RPA, the €300m extension adds nine stops to the route and makes provision for a further two. It is expected to attract around 2 million additional riders per year.
Journey time between St Stephen's Green in the city centre and the new terminus at Brides Glen is around 40 min. Some Line B services will continue to terminate at Sandyford, where the existing stop has been rebuilt with a three-track layout. Headways on the extension will vary between 7 min at peak times and 10 min off-peak.
Following a seven-year planning process construction of the extension began in 2007, as part of the government's Transport 21 investment programme. As with the existing Green Line, part of the route follows the former alignment of the Harcourt Street – Bray railway closed in the 1950s. Several major bridges have been refurbished or replaced, and two new bridges built over the M50 motorway.
The project included enlargement of Sandyford depot with five more stabling roads to accommodate the extra cars needed to work the longer route. Luas has ordered 26 seven-section Citadis 402 low-floor cars from Alstom, of which 22 have been delivered so far. The new cars will replace the Green Line's original Citadis 401 vehicles, which are being transferred to provide additional capacity on the Red Line.