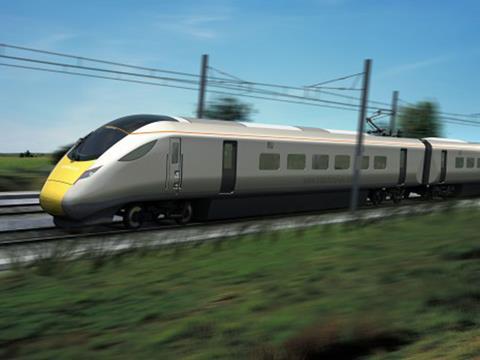 UK: A £1·2bn firm order for the Agility Trains consortium to design, build, finance and maintain 30 nine-car electric Hitachi Super Express Trains to replace the current Intercity 225 fleet on East Coast Main Line services from 2019 was confirmed by Transport Secretary Patrick McLoughlin on July 18.
The 27½-year East Coast contract is the Phase 2 option on a July 2012 agreement for 92 five and nine-car sets totalling 596 coaches. Of these, 369 will be used on Great Western services from 2017 and 227 are intended to replace diesel HSTs on the East Coast Main Line. The contracts have been placed under the Department for Transport's Intercity Express Programme to replace ex-British Rail inter-city fleets.
DfT said the deployment of the trains would 'grow and protect the key East Coast rail markets in readiness for High Speed 2 deployment from 2033.'
The vehicles are to be produced at Hitachi Rail Europe's factory at Newton Aycliffe in northeast England, which is scheduled to begin full production in 2016. 'This order extends firm orders at the factory until the end of the decade, with significant capacity remaining available for future UK and export contracts actively being pursued', said Hitachi Rail Europe Executive Chairman & CEO Alistair Dormer. He said Hitachi was 'committed to the long-term development of engineering capability in the northeast and aim to repeat the success of Nissan and Toyota in the automotive industry by bringing world-class practices to UK train manufacturing.'
Hitachi said the new 627-seat trains would offer 50 mm of additional leg room in standard class airline seats, wi-fi, power sockets accessible from every seat, LCD seat reservation displays 'with sophisticated traffic light vacancy notification', 10 bicycle spaces and the capability to deliver 100 cooked breakfasts or dinners per 2 h of journey time. They will operate at up to 200 km/h, but would be capable of operating at 225 km/h if infrastructure and signalling on the East Coast Main Line were to be upgraded.
The electric-only SET sets have been designated Class 801, while the bi-mode electro-diesel trainsets will be Class 800.