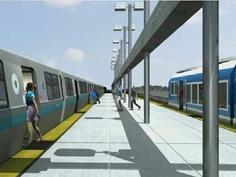 USA: The Bay Area Rapid Transit District on October 29 held a groundbreaking ceremony for eBART, a DMU-operated extension of the regional rail network to the eastern part of Contra Costa County.

The 16 km line will run east along the median of State Route 4 from a transfer platform at the existing BART Pittsburg/Bay Point terminal to Hillcrest Avenue in Antioch, with an intermediate station at Railroad Avenue in Pittsburgh.

Just days before the groundbreaking, the agency approved the first construction contract for the project. West Bay Builders Inc will be paid $26m to build the interchange and make some of the necessary right-of-way improvements.

Officials consider DMUs to be a cost-effective interim solution until funding becomes available to electrify the extension. An Environmental Impact Report was completed and approved by the BART board in April 2009, and rolling stock bids should be invited next year.

eBART is the first phase of a plan to extend service into the East County area, which has long been part of the BART District. It is envisaged that the line could be extended along a former Union Pacific right-of-way from Antioch to Oakley, Brentwood and Byron.