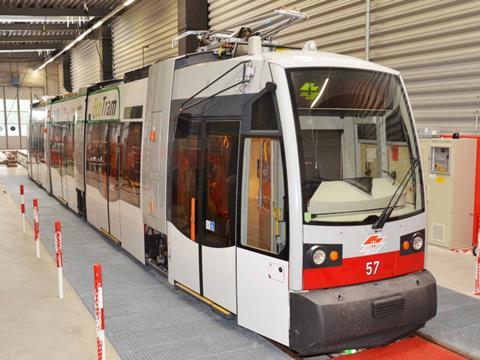 AUSTRIA: A Siemens Ultra Low Floor tram equipped with technology to reduce energy consumption has begun test running in passenger service in Wien. The ULF tram will operate on Route 62 until May 2014.
As part of the EcoTram project, the tram has been equipped with intelligent control units that predict whether cooling or heating will be required. For example, if the tram enters a tunnel where the ambient temperature is cooler, the air-conditioning will be turned down. The units control three air-conditioning units with heat pumps, a variable-frequency compressor and CO2 sensors. According to Siemens, the tram could offer annual savings of up to 3 000 MWh for tram operator Wiener Linien.
The EcoTram project has been running since 2009, supported by the Climate & Energy Fund of the Austrian Research Promotion Agency as part of its New Energies 2020 programme. Other project partners include the Automation & Control Institute at Technische Universität Wien, which has developed the control software; Rail Tec Arsenal, which has manufactured the measuring technology; and Vossloh Kiepe, which has supplied the heating and air-conditioning units. Schieneninfrastrukturgesellschaft is the project manager.