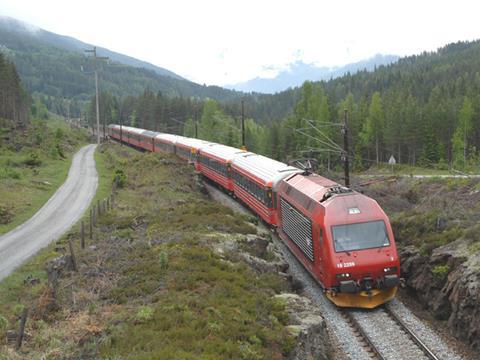 NORWAY: Infrastructure manager Jernbaneverket has recommended the construction of a 69 km double-track alignment to replace a single-track section of the Oslo – Bergen main line between Voss and the Bergen suburb of Arna.
In a joint report prepared with the national road authority, the infrastructure managers have proposed that the railway should be built concurrently with a new road along the same route at a total cost of NKr33bn. Of this the rail element would account for NKr22bn.
Although the projects could be built separately, joint construction is expected to save around NKr5bn. The savings mostly come from removing the need to provide escape tunnels for the single-bore road tunnels, as required by stricter EU regulations on road tunnel safety which come into force in 2019.
Designed for operation at 200 km/h to 250 km/h, the new railway alignment is expected to reduce journey times between Arna and Voss from 63 to 24 min. This would cut the Bergen – Oslo trip by around 40 min. Double-tracking would allow train frequencies to be increased from one train per hour at peak times to two local and one long-distance service each hour.
Citing the cost savings to be achieved from constructing both road and rail tunnels concurrently, the report recommends that the projects should be financed as a single package. However, if this is not possible, the infrastructure managers recommend that any escape tunnels built for the road project should be designed for later conversion to rail bores. In either case, the report recommends that the Arna – Vaksdal section should be completed first.
Jernbaneverket is to investigate two potential locations for a new freight terminal in Trondheim, following a government decision that the terminal should be built to the south of the city, precluding any direct integration with the existing port facilities.