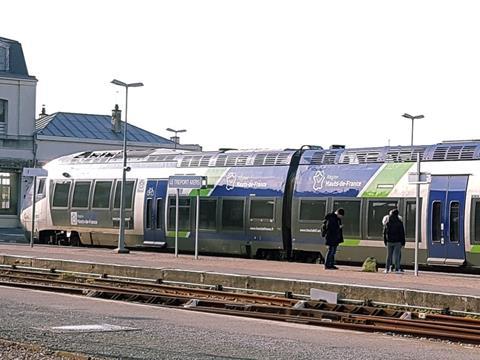 FRANCE: Plans are in hand to run competitively tendered passenger services over the Abbeville – Le Tréport line in northern France that was closed in May 2018.
In a corrigendum published on July 19 to an April notice in the Official Journal of the European Union the region specified the operation of trains on the 37 km route. Luc Foutry, President of the Transport Committee in the Hauts-de-France regional council, explained to Railway Gazette that the line had in fact been shown on a map in an annex to the original consultation document.
The consultation due to close on November 15 sets out details of the routes to be operated, specifying estimated train-km and passenger-km for 10 groups of routes, each of which would be tendered as a lot. Abbeville – Le Tréport forms part of a lot covering services from Amiens to Abbeville, Laon, Hirson, Saint-Quentin, Albert, Compiègne, Creil and Abancourt, Creil to Beauvais, and Beauvais to Le Tréport. This group of services would require an estimated 3 400 000 train-km annually, with traffic put at 186 million passenger-km.
For many years the Abbeville – Eu – Le Tréport line survived with just two trains each way per day, while other trips were operated by buses. When the trains were withdrawn last year SNCF Réseau argued that rail operations had to be suspended because of the poor condition of the single track.
In September 2018 Hauts-de-France agreed to contribute €150 000 towards a study covering the work needed to reopen the line to passenger trains. Foutry said that this study is expected to conclude in the near future, noting that it would confirm whether or not the €40m mooted at the time of closure would suffice to reopen the line. He described this as a 'probability' rather than a possibility, although it may not happen until 2024.
Asked whether the tendering process would lead to operation of a more frequent service, Foutry said that he hoped so, remarking that running just two trains a day was one reason why few passengers used the line. 'We want to reverse the logic', he said, noting that there would be little point in spending a lot of money for so few trains. He hoped that bidders would in due course want to run more services, so making the expenditure worthwhile.
In the meantime work is in hand to rehabilitate the line between Le Tréport, Beauvais and Abancourt. Hauts-de-France is providing €50∙2m towards the €70∙7m cost of this project, with Normandie contributing €14∙7m and SNCF Réseau €5∙8m. Apart from improvements to the track, the work covers level crossings and telecommunications.