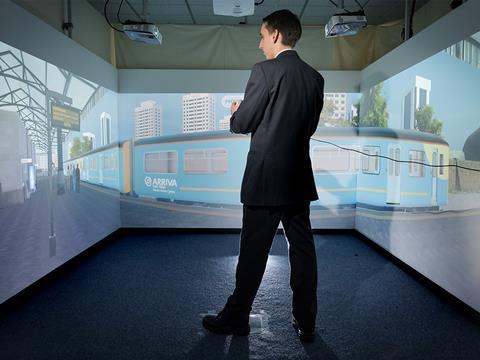 UK: Arriva Trains Wales is training staff to spot potential platform-train interface hazards by using a £100 000 interactive virtual reality 'cave' which replicates a station platform, complete with computer-generated passengers.
The three-walled room at ATW's driver training centre in Cardiff uses projectors and screens to create an immersive virtual station, which the user can navigate around using a wireless hand-held controller while interacting with customers, trains and other objects. The software was developed by Virtual Reality Simulation Systems, which specialises in using computer game technology to provide safety and educational training.
Various scenarios are designed to help to train conductors and station staff to identify potential risks and hazards.
'In the last five years, 15 people have been killed in platform-train interface incidents across the UK and another 254 major have suffered major injuries', said Gareth Thomas, Human Resources Director at Arriva Trains Wales. 'With such significant numbers of fatalities and incidents occurring as a result of this activity, we have a responsibility to ensure that the safety of our staff and customers is maintained and, where possible improved.
'The well-being of our passengers is vitally important to us and that is why we have invested heavily in developing the virtual reality cave. It will help train our staff to identify potential risks and hazards faster so we they can react quicker and reduce the number of accidents across our network.'