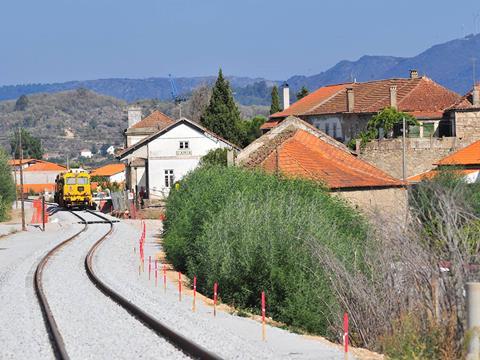 PORTUGAL: Minister of Planning & Infrastructure Pedro Marques has announced the start of work to rehabilitate the Guarda – Covilhã section of the Beira Baixa route by mid-2019.

To be completed within a budget of €88m, rehabilitation of the railway, which has been out of use since 2009, would provide a strategic link on a north-south axis within Portugal as well as providing a cross-border route into Spain via the frontier crossing at Vilar Formoso. The European Union is to cover 85% of the cost, and the project forms part of the Ferrovia 2020 Investment Plan issued by Infraestruturas de Portugal in February 2016. This in turn is mostly based on the PETI3+ proposals developed by the previous government. Works are expected to be completed in the first quarter of 2019, with trains expected to resume by the summer.

The rehabilitation work consists of electrification and track renewals along 46 km of the route, complementing a 10 km section that was renovated under a previous investment programme. Station refurbishment is planned at Maçainhas, Benespêra and Barracão, and IP will oversee the installation of drainage systems, reinforcement of six steel girder bridges and upgrading of signalling and telecoms systems, including installation of electronic interlockings. Level crossings around Guarda are to be removed where possible, or fitted with automated gates and warning systems. Once completed, the modernisation work should allow CP's regional passenger services to link the two towns in 40 min and permit the operation of 600 m long freight trains.

IP has also been approved to start work on the Beiras Link, a 1·5 km single track electrified chord that would provide a connection at Galegas between the Beira Baixa and Beira Alta lines. This would relieve capacity constraints and provide an alternative route for freight trains between Spain and Portugal, avoiding the Porto – Lisboa main line. IP also intends to complete work to enable 750 m long freight trains to run over the Beira Alta corridor linking Vilar Formoso with Coimbra and Porto.