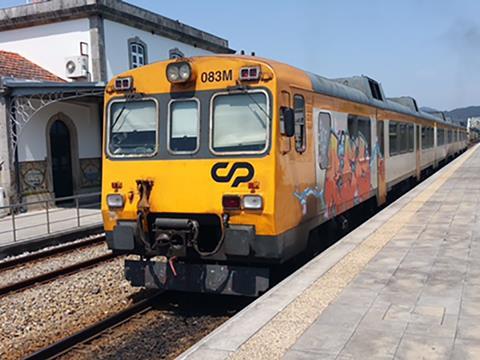 PORTUGAL: Infraestruturas de Portugal announced on October 19 that it had signed a contract worth €16m with Mota-Engil, covering electrification of the 44 km Nine – Viana do Castelo section of the route between Porto and Valença on the Spanish border.
The contract also covers the construction of 750 m passing loops at Midões and Barroselas, and remodelling of station track layouts at Barcelos, Barroselas, Darque and Viana do Castelo.
Associated civil works include lowering the track beneath overbridges to provide sufficient clearance for electrification, embankment stabilisation and waterproofing tunnels at São Miguel da Carreira, Tamel and Santa Lucrécia. Station platforms along the route are to be extended and raised in height.
Separate contracts cover the construction of a traction substation at Vila Fria for €3⋅7m, and resignalling between Nine and Valença. Worth €8⋅8m, the latter contract also includes maintenance.
A total of €83⋅2m has been budgeted for upgrading the Minho line between Nine and Valença in order to cut journey times and increase capacity by 33%. At present, the route can accommodate up to 15 trains/day with a maximum length of 300 m, and the project is designed to increase this to 20 trains/day up to 750 m in length.