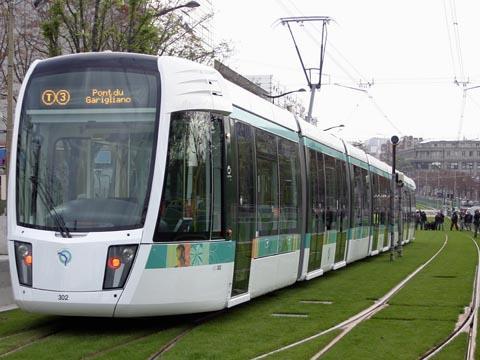 FRANCE: Funding for a 14·5 km extension of Paris tram route T3 around the east of the city from Porte d'Ivry to Porte de la Chapelle was approved on April 16. T3 will gain 26 stations when the extension opens at the end of 2012, providing interchanges with 11 metro lines and RER lines E and C.
The city of Paris will contribute €433·6m and Ile-de-France region will provide €218·3m. New trams will be purchased from Alstom at a cost of €75·7m, to be shared equally by RATP and STIF.
Utility relocation is now underway, and main construction works are expected to start in mid-2010.
The announcement followed the launch of a €18·6bn transport master plan at the end of March. This seeks to accelerate existing RER, metro and tram projects and improve suburban transport by developing the Arc Express line around Paris, relieving saturation on the existing transport network.
To reduce congestion on metro Line 13, STIF recently approved a plan to extend Line 14 north to Mairie de Saint-Ouen at a cost of up to €954m. Work on the 5·2 km three station extension should start in 2013 and is expected to reduce ridership on Line 13 by about 25% when completed in 2017. Mayor of Paris Bertrand Delanoë has said the city is willing to finance 20% of the cost.