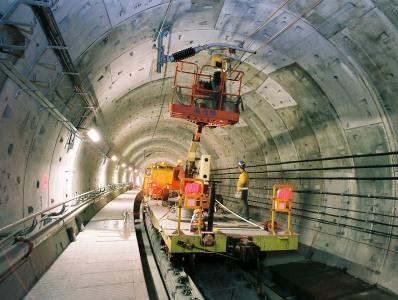 CHINA: Hong Kong's MTR Corp has awarded two contracts to Halcrow and Aecom for design work on phase one of its 17 km Shatin - Central Link project.
The first phase of SCL involves an 11 km extension of the Ma On Shan Line from Tai Wai station via Diamond Hill to join up with West Rail at Hung Hom. This will ultimately create a 57 km East-West corridor to be worked by eight-car West Rail Line trains.

Phase II will extend East Rail Line by 6 km from Hung Hom to Admiralty station on Hong Kong Island, to form a North-South corridor operated by nine-car East Rail trains.

Halcrow will design a section of the route known as Lion Rock and Diamond Hill approach tunnels, which comprises 4·7 km twin tunnels to be built in two sections using drill and blast and tunnel boring machines. The tunnels have to fit within a narrow road corridor owing to constraints imposed by the foundations of nearby high-rise buildings.

Aecom's design contract includes a new interchange station at Diamond Hill, a train stabling facility, the upgrade of an existing rail depot and an extensive network of footbridges. Once completed, Diamond Hill is expected to become one of the busiest stations on the East-West corridor, providing an interchange with the Kwun Tong Line and handling around 47 000 daily passengers during morning peak hours.

Construction of the Shatin - Central Link is expected to start in 2010. Completion of Phase I between Tai Wai to Hung Hom is envisaged in 2015 whilst Phase II from Hung Hom to Admiralty should be finished in 2019.