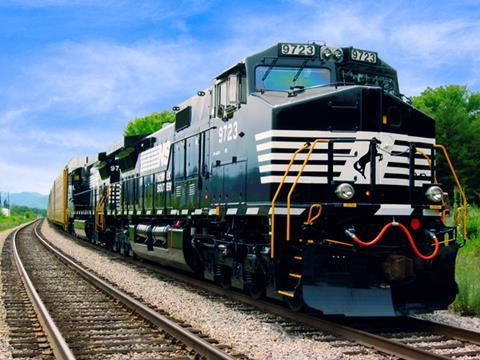 USA: '2016 was a pivotal year as Norfolk Southern began implementing its new strategic plan', said Chairman, President & CEO James A Squires when presenting the railway's annual results on January 25. 'We delivered $250m of productivity savings and recorded our best ever operating ratio, notwithstanding challenging business conditions.'
Net income was $1·7bn in 2016, up 7% from 2015. Income from railway operations was up 7% to $3·1bn, and the operating ratio was a record 68·9, compared to 72·6 the previous year.
NS has 'improved service for customers while positioning the company for further growth in 2017 and beyond', Squires said. The company plans to invest $1·9bn in its 2017 capital programme, a similar sum to 2016. 'We are poised to continue building on our success and deliver an additional $100m of productivity savings in 2017 on the way to our goal of $650m of annual savings by 2020', Squires added.
Railway operating revenues totalled $9·9bn in 2016, a 6% decrease on 2015 driven by a 3% volume decline and reduced fuel surcharges.
General merchandise revenues of $6·2bn were 2% down and volumes were also down 2%, primarily due to reduced demand in the energy markets. Intermodal revenues of $2·2bn were 8% lower than in 2015, reflecting the restructuring of the Triple Crown subsidiary, although international and domestic growth more than offset the volume decline related to Triple Crown. Coal revenue of $1·5bn was down 18% year-on-year and volume down 16%, as a result of reduced utility volumes and a weak global export market.
Operating expenses declined 11% to $6·8bn, primarily as a result of targeted expense reduction initiatives, lower fuel expenses, the absence of the previous year's restructuring cost and service improvements.