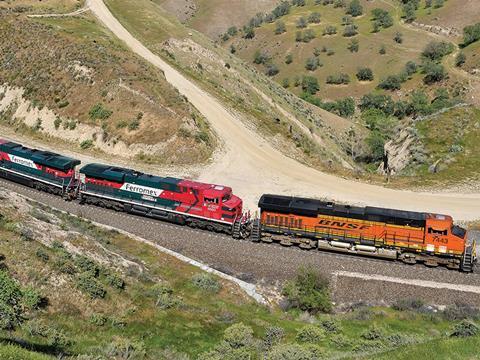 NORTH AMERICA: BNSF Railway and Ferromex have announced that on May 27 they are due to launch a direct intermodal service between Chicago and Silao in the Mexican state of Guanajuato. Container trains will be interchanged between the two railways at the El Paso/Ciudad Juárez border crossing, with Ferromex operating between the border and Silao five days a week.
The partners note that the major manufacturing centres of the Bajío region, including León, Irapuato, Celaya, Salamanca, Querétaro and Aguascalientes, all lie within a 160 km radius of the Ferromex terminal at Silao by road. As well as avoiding highway congestion in the USA and Mexico and at the border in particular, the new intermodal service will offer lower costs than road transport 'and faster transit times in comparison to a single truck driver'.
'This service offers Mexico's fast-growing manufacturing sector in the Bajio region a simple way to reduce trucking costs and delays', said BNSF Executive Vice-President & Chief Marketing Officer Steve Bobb. Potential customers included the car manufacturing sector, he noted.
'Mexico is the United States' third-largest trading partner with a yearly trade of just over $500bn. This translates into 14 000 trucks crossing between our borders on a daily basis', said Ferromex Chief Marketing Officer Fernando López. 'We created this intermodal train to serve such a market, delivering not only a consistent and reliable alternative, but a solid competitive advantage for North America as a region'.
A dedicated customer support team will be available to track shipments throughout their journey, 24 h a day seven days a week. To minimise delays, southbound shipments are moved in bond and clear Mexican customs upon arrival, with northbound consignments pre-cleared 'by a customs broker of the customer's choice'.