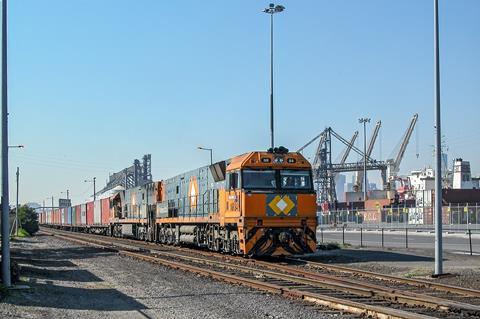 AUSTRALIA: Port of Melbourne has reached agreement with Patrick Terminals to develop a rail terminal at Swanson Dock East as part of plans to boost the proportion of the port's throughput moving by rail.
As part of a deal to extend Patrick's operating concession at the port to 2066, the company has agreed to contribute A$15m towards the construction of the rail terminal. According to Patrick CEO Michael Jovicic, 'the facility will provide a direct interface with Patrick's Swanson Dock East container terminal, reducing the cost of last mile transfers between the rail terminal and quayside for rail-based container movements'.
Port of Melbourne is currently tendering the civil works for the new terminal, and construction is expected to start in 2021 for completion by mid-2023. To be built on a site near Coode Road, it will have two 600 m long mixed-gauge sidings able to accommodate 1 435 mm and 1 600 mm gauge trains with a maximum axleload of 23 tonnes. Annual throughput is estimated at up to 200 000 TEU. The terminal will be operated as an open access facility for use by a variety of rail operators, including Patrick co-owner Qube.
Backed by Australian, Chinese and Canadian investors, Port of Melbourne Operations Pty Ltd operates Australia's busiest port under a 50-year lease from the state of Victoria awarded in September 2016. The operator has committed to invest A$125m in its Port Rail Transformation Project, announced earlier this year.
Port of Melbourne CEO Brendan Bourke said the Swanson Dock East rail terminal would be a major component of PRTP, which in turn was 'a key project of our Port Development Strategy and vital to successfully accommodating future growth'.
He explained that 'this new on dock rail terminal supports the introduction of the government's Port Rail Shuttle Network, which will reduce truck trips on the Melbourne road network'. Backed by the state government, the port shuttles are intended to move containers between the docks and intermodal terminals around the city, reducing lorry movements close to the city centre.
Websites
We are not responsible for the content of external sites