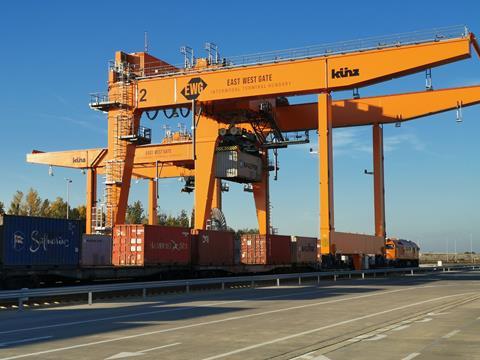 HUNGARY: The arrival of a train loaded with Ukrainian agricultural produce inaugurated the East-West Gate terminal at Fényeslitke, which developer East-West Intermodal Logistics says is Europe's largest inland intermodal facility.
The 85 ha facility is within a 140 ha development site around 15 km from the border crossing between Záhony and Chop in Ukraine. It can handle up to 1 million TEU of containers per year, as well as lorries and semi-trailers being loaded on and off trains. There is also 'significant' capacity for transhipment of agricultural products.
'EWG is independent and its services are available to any rail and road freight company in the world, open to all freight forwarding operators and carriers', said EWIL CEO János Tálosi.
The company hopes that the site will become the largest hub for Ukrainian food exports by rail. From November, it is expected to be capable of handling 800 tonnes of grain and 450 m3 of sunflower oil per hour, providing an alternative to the Black Sea shipping routes disrupted by the Russian attack on Ukraine.
The inaugural train on Ocotber 18 carried 44 containers with 1 146 tonnes of wheat, millet and green peas being shipped by Ugrain Trade to the Csepel Free Port in Budapest.
Development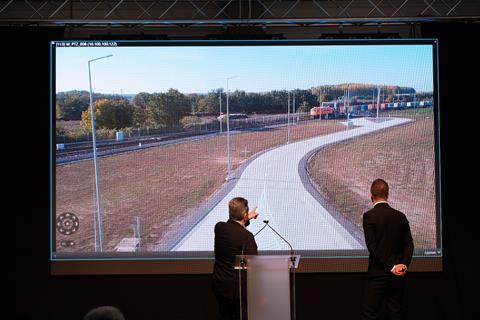 Construction of the HF40bn privately funded facility began in January 2021, and testing began in March this year. It features 225 000 m2 of concrete paving and a 15 000 m2 warehouse, served by 10 km of track and with 1 520 mm gauge access from Ukraine.
Austrian company Künz has supplied one 41 m wide and two 28 m wide cranes on rails, as well as a 20 m high rubber-tyre crane. The ATEX and ADR certified cranes can be used for transloading gas container tanks and chemicals.
The cranes are operated from the control centre, with high resolution cameras and a private 5G network built by Vodafone Hungary using Huawei equipment enabling them to be controlled as if someone was in the cab.
The project has also included 'several billion' forints of improvements to the public rail network.
Back on the map
The company said the break-of-gauge meant the area was a major transit hub until declining from 1990. The new terminal aims to spur development and help to shift freight entering the EU from lorry to rail, in line with climate objectives.
The terminal has directly created around 100 new jobs, with more to follow by the middle of next year and 500 indirect jobs also planned to be generated.
'With the construction of the East-West Gate, Hungary is back on the map of international rail logistics', said Tálosi.