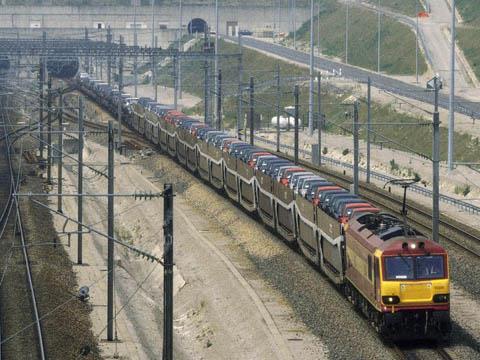 UK: The trial of a Class 92 locomotive with fully operational TVM430 cab signalling on High Speed 1 has been 'an outstanding success', according to DB Schenker (UK) Ltd. The test run on March 25 from Dollands Moor to Singlewell marked a 'significant milestone' in the five-year programme to modify TVM430 to enable Class 92s to haul freight trains on HS1 between the Channel Tunnel and London.

With funding from the European Union's Marco Polo programme, DB Schenker has been working on the modification programme with infrastructure owner HS1 Ltd, Ansaldo STS and Systra. The freight operator is now planning a further trial with a Class 92 hauling loaded wagons, taking advantage of HS1's more generous loading gauge which, unlike the conventional network in the UK, is able to accommodate standard European wagons.

'This is the significant key that will unlock modal shift between road and rail on cross-Channel operations', said DB Schenker (UK) Ltd Chief Executive Alain Thauvette. 'I congratulate everyone involved and look forward to the success of the loaded trial, followed by the introduction of regular services'.