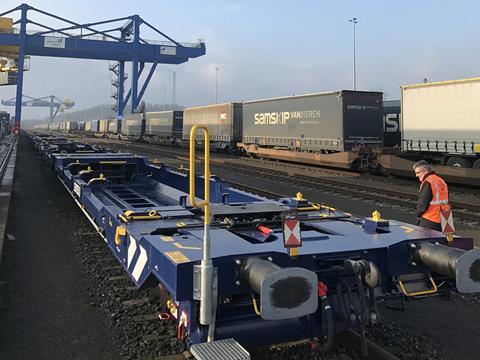 EUROPE: The conditions which are needed to make rail freight's quality, reliability and cost of more attractive to customers were the main themes of the annual strategy day held by the European Rail Freight Association in Brussels on November 21.
Bringing together organisations which want to promote 'attractive, fair and transparent market conditions for all railway companies', ERFA now has 30 members from 16 countries.
Simplification of driver language requirements was a major topic of the day, with ERFA welcoming EU rules allowing operators and infrastructure managers to pilot alternatives to the current B1 level requirement for drivers operating trains across borders ('can understand the main points of clear standard input on familiar matters regularly encountered in work, school, leisure').
ERFA said trade union representatives and private operators agreed that English should be adopted in the future as a second operational language, believing this would facilitate the operation of cross-border services and make train driving a more attractive and accessible career.
ERFA also welcomed the adoption by infrastructure managers of a contingency handbook intended to mitigate the effects of disruptions such as the seven-week blockade of the Rhine Valley route at Rastatt in Germany which occurred following an infrastructure collapse in 2017. As part of this improved planning, infrastructure managers are now publishing information on rerouting options, including technical parameters, operational requirements and capacity. Operators are also discussing contingency planning to minimise the impact of large-scale disruption.
ERFA said a key priority for 2019 would be the development of an EU-wide strategic plan identifying tools that could be deployed at national and international level to boost rail freight. These could include 'competitive' track access charges and performance schemes that provide incentives for infrastructure managers to minimise disruption.