State support for France's rail freight operators will rise to €200m a year from 2025 while €4bn will be invested in related projects in 2023-32. The French government meanwhile is proposing radical changes to the state-owned rail freight sector to avoid punitive action by the European Commission, writes Jérémie Anne.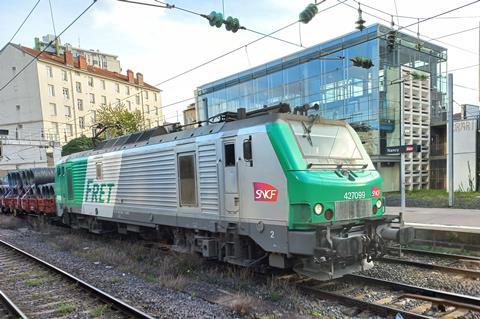 Faced with the prospect of reimbursing €5∙3bn of state aid granted earlier to loss-making Fret SNCF, or possibly other sanctions from the European Commission, the French government is seeking to negotiate a compromise that would entail winding up Fret SNCF in its current form.
Transport Minister Clément Beaune met SNCF President & Director General Jean-Pierre Farandou and representatives from four railway trade unions on May 23 to outline the government's position and to detail the latest proposals for investing in France's rail freight business. Beaune affirmed that the government would 'defend a responsible solution for Fret SNCF with no staff laid off, no privatisation and no modal shift'.
The move comes in response to the European Commission's announcement on January 18 that it had begun a detailed investigation into measures taken by the French government in 2007-19 to provide financial support to the national operator's subsidiary Fret SNCF.
In a bid to fend off the threat from the Commission, the government is proposing to restructure the national rail operator's freight business in radical form. In a procedure that would mirror the winding up in Italy of state-owned airline Alitalia and its replacement by ITA Airways in 2021, Fret SNCF would be dismantled and partly replaced by an organisation bearing a new name and with a different and much reduced role. Negotiations with the European Commission are set to continue with a view to achieving a resolution by the end of this year.
Trainload offloaded to other operators
The government's current proposals would see Fret SNCF offer its trainload freight activity to other operators. Trainload services are understood to represent 30% of traffic and about 20% of turnover, around €750m a year. A tendering process is expected to conclude no later than by July 2024.
Staff employed in the trainload sector would have the option of transferring to other operators or remaining with SNCF. The rolling stock used on the 23 principal trainload flows, which represents 30% of Fret SNCF's fleet, would become available to other operators.
Among the trainload services is the high-profile train des primeurs, the overnight express freight that carries seasonal fruit and vegetables from southwest France to markets in Paris. Operated by SNCF subsidiary Rail Logistics Europe, the service was withdrawn in 2019 and reinstated in October 2021 thanks to a government subsidy designed to ensure that the train would run at least until the end of 2024.
A reconstituted Fret SNCF company to be established on December 31 2024 would form another subsidiary of the main group and would retain wagonload services and its capacity management role. SNCF would hold a majority of the capital in the new company, but it would be open to minority holdings by other public entities and the private sector. There is for now no guarantee that the public sector would maintain a majority holding in perpetuity; loss of state control would probably be anathema to the railway trade unions.
Another subsidiary would be set up to take over the current maintenance facilities of Fret SNCF. Further details of the proposals will now be discussed by SNCF, the railway trade unions and the government.
Support for rail freight to continue
Beaune insisted on May 23 that the government was determined to continue its support for the rail freight business, stating that aid for operators would increase from €170m a year currently to €200m a year from 2025 until at least 2030. Intended to help achieve decarbonisation and climate change objectives, the measures are supported by an investment package worth €4bn for 2023-32 that forms part of the €100bn plan to revitalise rail announced by Prime Minister Elisabeth Borne on February 24.
Around 2bn will be invested in 2023-27 with €900m contributed directly by the French state, including €470m via local and regional authorities through the future Contrat de Plan Etat-Région. The government insisted that this was nearly four times as much as in the last five years. The funds will be earmarked for infrastructure improvements along the main freight arteries, with tunnel loading gauges enlarged and marshalling yards such as those at Miramas and Woippy modernised. The remaining tranche of €2bn will be invested in 2027-32.
The news of additional funds was welcomed by industry body Fret Ferroviaire Français du Futur, which said the announcement was 'finally up to the challenges of modal shift in favour of rail freight … the plan means that the target of an 18% modal share for rail freight by 2030 is achievable'. While rail's share was 10∙7% in 2021 and the best since 2017, the 4F Alliance warned that good intentions needed to be backed by action. It called for the government to set out priorities 'for the different projects now on the table' and said it would be monitoring the situation.
No Russian roulette
Asked about the future of SNCF's freight business on the France Info news programme on May 25, Clément Beaune admitted that 'the survival of Fret SNCF, of publicly-run rail freight in France, is in question'.
Several months of discussions with the European Commission to avoid a formal procedure had been 'a tough battle', the minister said, but the threat of the legal procedure 'is there, it is reality … I don't want to play Russian roulette or Belgian roulette because, yes, there are six bullets in the barrel and the chance of losing is, unfortunately, extremely high'.