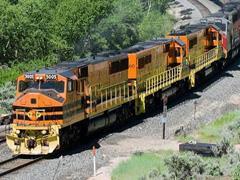 USA: Genesee & Wyoming Inc announced on July 23 that it had agreed to acquire RailAmerica and 'combine the two largest short line and regional rail operators in North America'.
The deal is still subject to approval by the Surface Transportation Board, which GWI hopes to receive between the end of this year and the third quarter of 2013.
According to GWI, the cash offer of $27·50 per share is a 10·6% premium on RailAmerica's closing price on July 20, or 27·6% over the price on May 21, before RailAmerica 'announced that it was exploring strategic alternatives'. RailAmerica has been owned since 2007 by investment funds managed by affiliates of Fortress Investment Group.
The acquisition will be funded alongside the refinancing of GWI's existing debt, using $2·3bn of committed debt financing from BofA Merrill Lynch and $800m of committed equity financing from The Carlyle Group.
GWI President & CEO Jack Hellmann said the acquisition was 'a straightforward combination of two organisations with overlapping holding company structures and complementary railroad geographies' which offered significant synergies that could unlock shareholder value. Cost savings are valued at US$36m, of which 75% would be realised within a year of close and 100% within 18 months.
Having assembled a portfolio of 66 railways through 36 acquisitions since 1985, GWI will now have 111 railways (of which 108 are in North America) totalling 24 300 route-km, using 1 000 locomotives and 4 300 employees to move 1·8 million carloads a year. Its footprint will grow from 24 to 37 US states, accounting for almost 70% of revenue, compared with 20% for Australia, 10%, in Canada and less than 1% in Europe. Total revenues would increase to approximately US$1·4bn, with North American revenues doubling to $1·1bn.