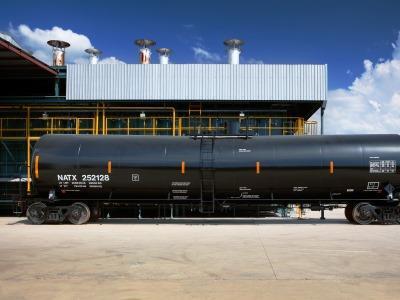 USA: Responding to growing concern over the safety of crude oil movements by rail in North America, rolling stock builder The Greenbrier Companies announced on February 5 that it is to develop a new-generation 'Tank Car of the Future' for the transport of hazardous freight, including crude oil and ethanol.
The new design will build on the company's experience in building non-pressurised tank cars to the CPC-1232 specification adopted by the Association of American Railroads and rolling stock manufacturers in October 2011. It will also incorporate experience from the company's Wagony Swidnica facility in Poland, which has been building tank wagons to European standards for more than 30 years.
'Recent high-profile derailments have clearly demonstrated the need for updating the North American tank car fleet to the highest practical safety standards', said Greenbrier Chairman & CEO William Furman. 'Greenbrier is addressing the tank car safety issue on two fronts – by supporting a Tank Car of the Future and through offering retrofit alternatives for the legacy fleet.' According to the company, the Tank Car of the Future could be in production in approximately 12 months, depending on the supply of materials.
As of November 2013, Greenbrier reports, there were 272 100 non-pressurised tank cars to the DOT-111 specification still in service in North America, of which 255 000 were of older legacy designs. Around 170 000 vehicles were being used to transport hazardous materials, including 68 000 carrying crude oil and ethanol.
The proposed retrofit options for the legacy DOT-111 cars include high-flow pressure relief valves, head shields, top fittings protection and thermal protection. Greenbrier says this would allow such cars to continue in service handling lower-risk commodities. The company is also planning retrofits for the newer CPC-1232 cars, including high-flow pressure relief valves and improved bottom outlet valve handles for cars used in crude oil and ethanol traffic. The retrofitting work would be undertaken by the company's Wheels, Refurbishment & Parts business, and would 'not materially impact production rates for new builds'.
Greenbrier's Manufacturing business in North America is currently able to build around 4 000 tank cars a year, but is increasing its capacity to meet higher demand. As of November 30, around 47% of its order backlog was for tank cars, amounting to 6 300 vehicles of various types including CPC-1232, pressurised vehicles and DOT-111 cars not used for hazardous loads.
Read our Comment on moving crude oil by rail in North America in the February 2014 issue of Railway Gazette International, available to subscribers in our digital archive.