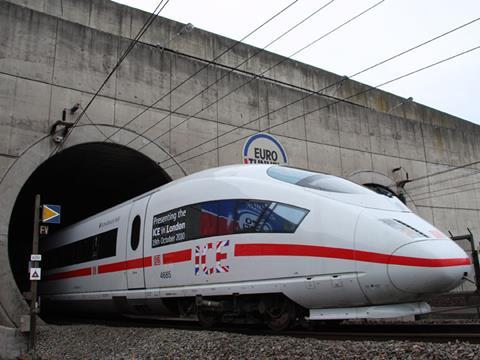 EUROPE: Deutsche Bahn expects to launch regular services from London to Frankfurt and Amsterdam in 2013, DB Chairman Rüdiger Grube confirmed on October 19, presenting an ICE3 trainset at St Pancras station for the first time.
Grube was joined for the announcement by UK Minister of State for Transport Theresa Villiers, Germany's Federal Transport Minister Dr Peter Ramsauer, DB's Board Member for Passenger Services Ulrich Homburg and the Managing Director of High Speed 1 Paul Chapman.
Following successful evacuation trials in the Channel Tunnel on October 16-17, Grube said DB had 'now reached the first milestone' on the way to launching regular ICE services, 'making full use of the opportunities afforded by the liberalisation of the European rail market'. The trials with a coupled pair of 200 m long ICE3 trainsets were undertaken in co-operation with Eurotunnel under the supervision of Channel Tunnel Safety Authority, and DB says 'further approval measures will be carried out in the coming months'.
Using its Class 407 Velaro D trainsets which are due to be delivered in 2011-12, DB is planning to launch regular services to London during 2013. There will initially be three trains each way per day. Pairs of ICE3 sets will run through the Tunnel between London, Lille and Brussels, splitting or joining in the Belgian capital. One set would continue to Köln and Frankfurt, with the other serving Rotterdam and Amsterdam. The 320 km/h trainsets are expected to reach Köln and Amsterdam in under 4 h from London, and Frankfurt in 'just over 5 h'.
With 15 Class 407s already on order at a cost of around €500m, DB expects to be able to launch direct services between London and Amsterdam a year ahead of Eurostar International, whose e320 Velaro trainsets will not be available until 2014.
Meanwhile, DB plans to step up its ICE service between Frankfurt and Brussels from three to four trains per day with the December 2010 timetable, and to launch through trains from Frankfurt to Marseille via Strasbourg, Mulhouse and Lyon in December 2011.