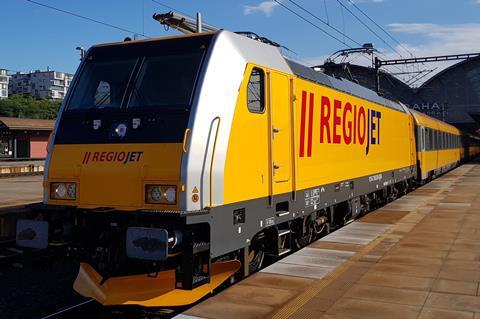 EUROPE: Open access and PSO contract passenger train operator RegioJet ran its first freight train under its own licence on April 24, when a Traxx 3 MS electric locomotive hauled 20 covered wagons carrying 1 260 pallets of Mattoni mineral water from Praha-Hostivař to Kecskemét in Hungary.
The trains run once a week, with two pairs per week planned for the summer peak season.
RegioJet said it does not intend to compete with other rail freight operators, but was looking to fill a niche in the market by targeting modal shift from road to rail. Until now the transport of beverages to Hungary has mostly been undertaken by lorry, although ČD Cargo has operated a small number of trains.
RegioJet is now negotiating to operate a similar service for non-alcoholic beverages manufacturer Kofola, which supplies the Czech Republic and Slovakia from its factory at Krnov in the Moravskoslezský region.