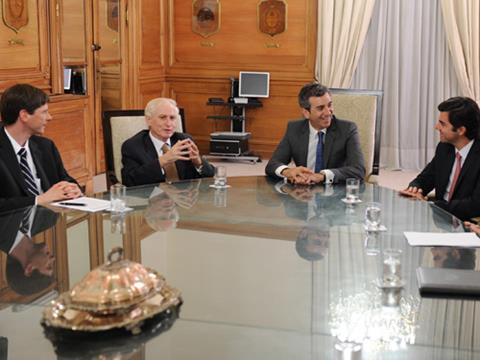 SOUTH AMERICA: Plans to resume regular freight services over the 700 km between Salta in Argentina and the Chilean port of Antofagasta took a major step forward on October 15 when an agreement was signed by Argentina's Minister of the Interior & Transport Florencio Randazzo, Governor of Salta province Juan Manuel Urtubey and the Chilean Ambassador to Argentina Adolfo Zaldívar Larraín.
Also signing the agreement were Juan Carlos García Huidobro and Francisco Martínez of Chilean railway Ferronor, which will now be able to operate over the Belgrano network between the border at Socompa and Salta. A weekly trial service was expected to begin shortly.
Infrastructure upgrades would be required on both networks to support regular freight operations, which would enable produce from Salta including soya to be moved for export via the deepwater ports of Antofagasta, Mejillones and Angamo on the Pacific. In Argentina 12 km of track is to be renewed immediately, according to the ministry, with a further 50 km to follow in the short term.