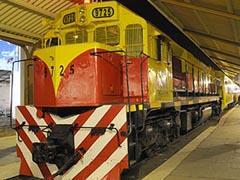 ARGENTINA: Chinese companies are to undertake route upgrades and supply rolling stock under a series of major contracts signed in Beijing on July 13, during the first state visit by President Cristina Fernández.
With 85% of funding provided by China Development Bank, CMEC is to undertake a three-stage US$10bn upgrade of the Belgrano network, including the supply of 50 new locomotives. The first stage costing US$2·5bn comprises the route from Timbúes north of Rosario to Avia Terai followed by Barranqueras -Salta, a total of 1 500 km.
CITIC International is to undertake the upgrade of the Buenos Aires - Mendoza route, as well as electrification of the Berazategui - La Plata section of the Roca commuter network in Buenos Aires. CITIC is also to supply 500 000 tonnes of UIC 54 rail. Electrification of the Belgrano North and South commuter routes is to be undertaken by Shaanxi Coal Group Investment Co Ltd and China Railway First Survey & Design Institute Group Co Ltd at a cost of US$1·85bn (RG 6.10 p34).
Rolling stock contracts include the supply of 279 metro cars for Buenos Aires at a cost of US$650m, 85%-funded by CITIC. The first 40 cars for Line A are expected to be delivered in the first half of 2011. China South is to supply 24 locomotives and 160 cars for the San Martín commuter network, also providing 85% of the US$134m cost via Eximbank.
CNR is to supply 20 locomotives and 220 cars for long-distance passenger services at a cost of US$330m, including 20 sleeping cars, 20 restaurant vehicles and 20 car-carrying wagons.
Initial co-operation agreements were signed with China Railway International for two projects, including the 18 km, 29-station metro for Córdoba that is expected to cost US$1·8bn. CRI will also be participating in the US$1·5bn project to extend Buenos Aires metro Line E to Ezeiza airport (RG 1.05 p7).