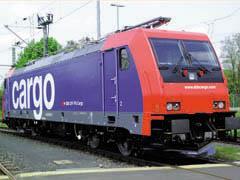 SWITZERLAND: On July 5 Swiss Federal Railways' freight business SBB Cargo and intermodal operator Hupac announced the formation of a new company to handle block and intermodal trains between Germany and Italy from early 2011.
SBB Cargo International aims to optimise capacity and minimise locomotive and crew downtime in order to become the cost leader on the north-south transit corridor, where intense competition has cut margins.
'Switzerland's two strongest players in the sector need to pool their strengths', said Hupac Chairman Hans-Jörg Bertschi. 'Only by doing so will we have a chance of actively counteracting the pressure being exerted by foreign operators'.
SBB Cargo will own a 75% stake in SBB Cargo International, providing 109 locomotives and also crews within Switzerland. Hupac will have a 25% share and supply much of the traffic, as well as shaping strategy. Further partners may also join. The new business will have its own crews in Germany and Italy, where existing subsidiaries will be integrated into it. The Chemoil petroleum and chemical business will remain with SBB Cargo.
SBB Cargo International's biggest customer will be Hupac, but it will operate independently and neutrally to attract other large shippers. Intermodal is expected to account for about 80% of projected annual sales of SFr300m, with the company expected to break even by 2013 and become self-financing in the medium term. 'The crucial thing is to be able to offer the market traction services between Germany and Italy as an independent, neutral train operating company', said Nicolas Perrin, head of SBB Cargo. 'This is in the interest of both shareholders.'
This will enable SBB Cargo to focus on its domestic business and handle import and export freight in alliance with other operators, with a particular focus on the North Sea ports. SBB Cargo aims to make its Swiss wagonload business profitable in the medium term, covering financing costs and reinvestment in rolling stock.