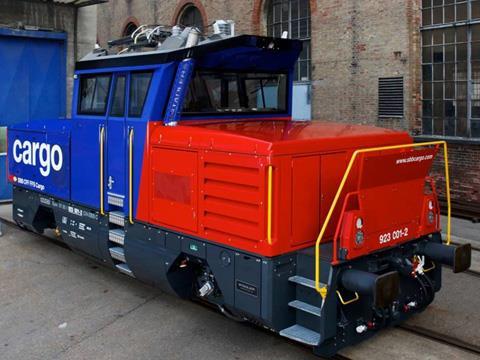 SWITZERLAND: The first of 30 Eem923 electro-diesel shunting locomotives ordered by SBB Cargo was unveiled at Stadler's Winterthur plant on October 14.
SBB placed a SFr88m order for the two-axle locomotives in July 2010, with the aim of replacing the Type Bm4/4 and various outdated three-axle designs.
The Eem923 is based on the electric-only Ee922 used by SBB's passenger division, and can run at up to 100 km/h on 15 kV and 25 kV electrified main lines. It also has an 360 kW auxiliary diesel engine for 'last mile' operation on non-electrified sidings.
SBB Cargo sees the locomotives as 'a clear commitment' to the future of wagonload freight in Switzerland.
'Once all 30 of the locomotives ordered are in operation from 2013, the operating costs will drop significantly, just through operation using mainly electrical energy', said Michel Henzi, General Project Manager at SBB Cargo. 'In addition, CO2 emissions will be reduced by more than 4 000 tonnes per year.'