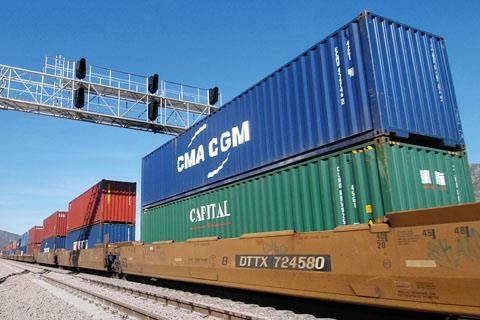 USA: Federal regulator the Surface Transportation Board is to require Class I railways to submit reports on their operations, performance and employment in an effort to address the problems reported by agricultural, energy and other shippers. It follows a recent public hearing involving government officials, unions and other stakeholders on urgent issues in the rail freight sector.
BNSF, CSX, Norfolk Southern and Union Pacific must also submit service recovery plans, progress reports, historical data and participate in bi-weekly conference calls with STB.
'While the railroads have faced certain challenges over the last few years, the evidence produced at last week's hearing is overwhelming: the railroads' long-standing practice of reducing operating ratios by cutting employment levels, mothballing locomotives and eliminating other essential resources are the central reasons why farmers have been hours away from depopulating herds, manufacturing facilities have reduced operating hours, and shippers cannot get their products to market on time or receive essential raw materials for their companies', said STB Chairman Martin J Oberman on May 6.
'These failures are harming the nation's economy and, in my view, are contributing to the inflationary forces affecting food and fuel in particular.'
Additional regulatory steps may follow if deemed necessary to promote reliable services.
The Association of American Railroads said railways operate in a dynamic global economy that continues to be challenged by 'record inflation, supply and labour shortages, and now global conflict' which are exerting pressure on many sectors. Finding qualified workers for demanding jobs was 'more challenging than it has ever been', with measures being taken including hiring bonuses, refer-a-friend payments, and incentives to relocate or fill vacancies.
Issues at ports and warehouses, as road haulage shortages were also creating a ripple effect on rail.
'While AAR appreciates continued engagement with policymakers, the STB should proceed strategically and deliberately, particularly when considering structural policy shifts', said AAR President & CEO Ian Jefferies. 'Disruptions in service should not be used to justify long-sought re-regulatory measures such as forced switching, as this type of market intervention would only complicate network operations further at a time when the focus needs to be on restoring freight fluidity.'