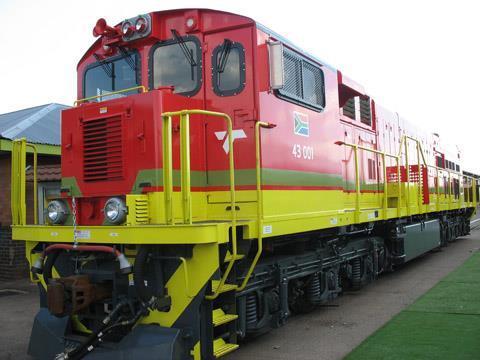 SOUTH AFRICA: A ceremony at Transnet Rail Engineering's Koedoespoort works in Pretoria on February 21 marked the formal delivery of the first two of 100 GE Transportation C30ACi diesel locomotives ordered by Transnet Freight Rail in December 2009.
According to GE they are the first diesel locomotives with AC traction in Sub-Saharan Africa, and the first in southern Africa to meet UIC2 emissions standards.
The 100 km/h locomotives are designated Class 43 by the operator, which expects to save 600 000 litres of fuel a year by using three new locomotives to replace four older models on coal and general freight traffic.
The first 10 are being built by GE in the USA. The rest are being supplied in kit form for assembly in Koedoespoort as part of Transnet Rail Engineering's strategy to develop local capabilities. They will enter service between the third quarter of 2011 and the first quarter of 2013.
Transnet is finalising an agreement with the US export credit agency to finance the order, as part of a policy of diversifying its funding sources.
The locomotive contract includes a significant skills transfer agreement. Read more in the training and recruitment section of the April 2011 issue of Railway Gazette International.